Let's face it if your cleaning cupboard isn't in some sort of order, how will you even manage to get your house in order? It's so easy to continue to buy cleaning products on offer (you know who you are). But we recommended to get it all out once in awhile, sort and re-discover what products you actually have. Here's five tips on the best way to de-clutter your cleaning cupboard.
1. Clean it out
First things first, empty everything out, every spray bottle, cloth and sponge (this is when you realise just how much you actually have)! Once you have emptied the cupboard completely. Then use anti-bacterial spray or a cleaning wipe to remove any dirt or dust inside. Make sure the cupboard is completely dry before you start putting anything back inside.
2. Get rid
It's time to be ruthless and get rid of any products you don't like, don't use anymore or may be out of date. Make sure to do this safely and follow manufacturers instructions on how best to dispose of the product. Another option is to pass your unwanted products on to friends and family to try. It's much better to re-use than to waste.
3. Storage Space
Space saving storage is a must have when it comes to a cramped under sink cupboard, the options are now endless. From simple baskets, to caddies, to under sink extendable shelves – you'll be amazed by all the options you have. Another helpful tip is to use adhesive hooks on the back of your cupboard door. The hooks can be used to hang cloths and tea-towels and make them easily accessible..
4. Organise your products
You now need to decide how you're going to organise your products. Whether it be by room, by item, by size, by colour. Whatever way you feel you will be able to get to them easily and know where they are. Along with organising your products, it's now time to throw out and replace any dirty cloths. Anything old and crispy should definitely be thrown out, but most of your fabric cloths and dusters can be put in the washing machine. If in doubt over what temperature to use, just check the label.
5. Get yourself a caddy
Finally, for those cleaning supplies you use all the time, create a cleaning kit in a caddy and place it at the front of the cupboard. This means the next time you need to clean all the usual places, you can just grab your supplies and get straight to work!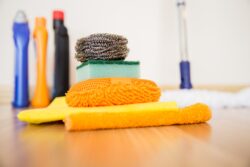 Source: Goodhousekeeping.co.uk
Categorised in: Uncategorized
This post was written by paulascanlon